Demo lesson
If you are not sure whether golf is a sport for you or not ,but you'd still like to try to hit the ball and to
find out more about it, DEMO CLASS is the right choice for you.
Learn general information about golf in Serbia and worldwide, get to know golf equipment and try to
play it. Moreover, forget about the problems and enjoy the nature and the beautiful surroundings of
the complex of Golf Centre.
Schedule your demo time and make yourself an interesting day.
Price demo time: 2000 RSD per person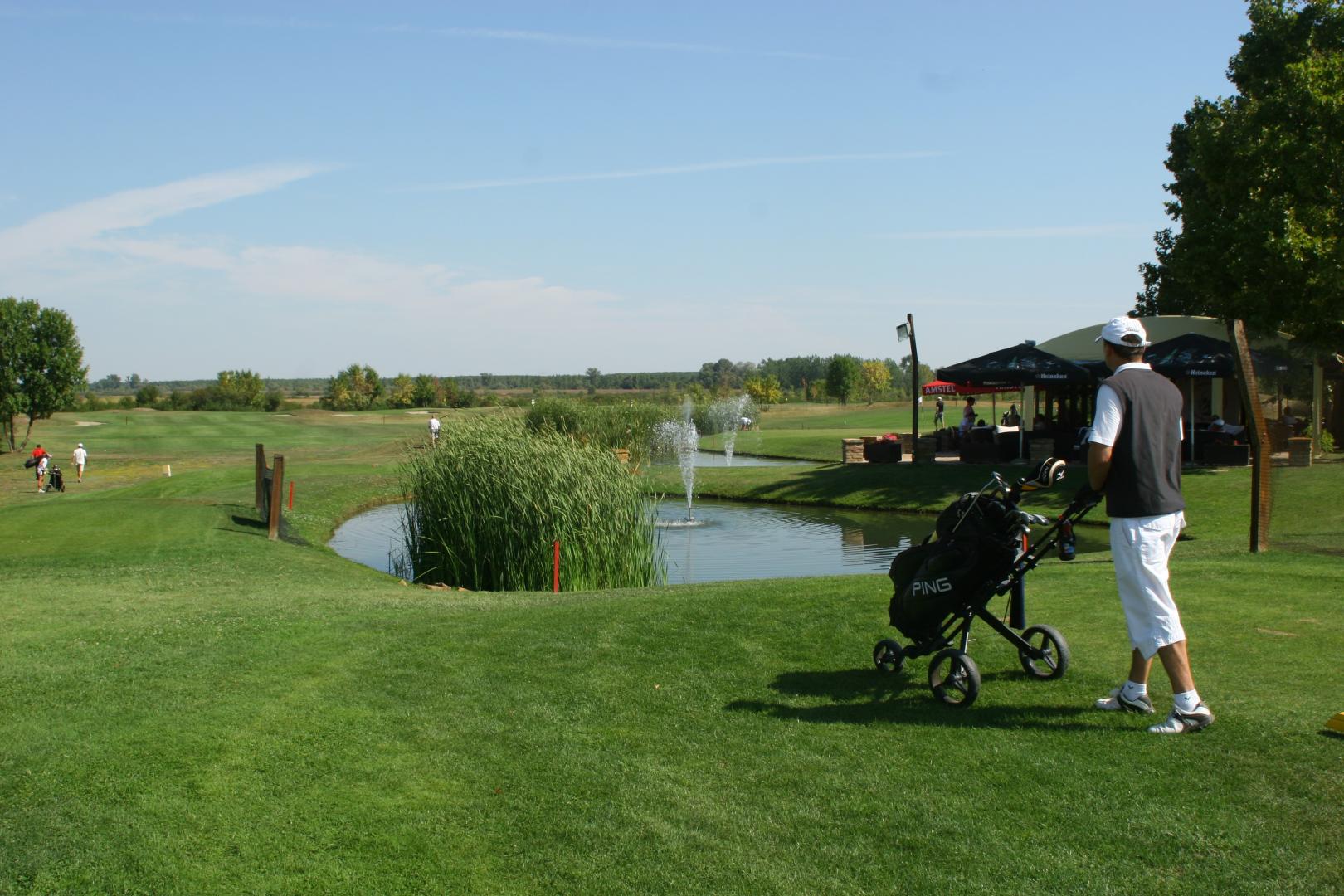 Golf Academy
In cooperation with the Golf Association of Serbia , Golf Club Centar organize training or "Golf
Academy", led by eminent experts from the country and all over the world. At the academy you will
learn basic techniques of the game, golf rules and ethics, that is all you need for obtaining a "green card"
which allows you to take part in any world golf course.
Etikecija na golf terenu
ČLANOVI KLUBA TREBA DA PODIŽU UGLED KLUBA, ČUVAJU MATERIJALNA SREDSTVA KLUBA, POŠTUJU PRAVILNIKE I KUĆNI RED U SKLADU SA ODLUKAMA SKUPŠTINE.
IGRAČI TREBA DA SE PONAŠAJU U SKLADU SA DUHOM GOLFA KAO SPORTA – DISCIPLINOVANO, POKAZUJUĆI LJUBAZNOST I SPORTSKO PONAŠANJE U SVAKOM TRENUTKU. VREĐANJE ILI NEDOSTOJNO PONAŠANJE NEĆE BITI TOLERISANO I MOŽE BITI SANKCIONISANO SUSPENZIJOM.
DŽENTLMENSKO PONAŠANJE I LEPI MANIRI U GOLFU PODRAZUMEVAJU I POMOĆ SAIGRAČU U TRAŽENJU IZGUBLJENE LOPTICE.
POMERANJE, ŠUŠKANJE I RAZGOVOR U MOMENTU KADA SE IGRAČ KONCENTRIŠE DA IZVEDE UDARAC NIJE DOZVOLJENO.
"GREENKEEPER" ILI U NJEGOVOM ODSUSTVU ZA TO OVLAŠĆENA OSOBA IMAJU PUNO PRAVO DA OGRANIČE ILI ZABRANE IGRU ZBOG LOŠEG VREMENA, STANJA TERENA ILI OPŠTEG ODRŽAVANJA TERENA.
Rules of using the golf course
BEFORE USE OF ANY CONTENT GOLF CENTER, MEMBERS AND GUESTS ARE REQUIRED TO REPORT THEIR PRESENCE AT THE RECEPTION OF THE CLUB.
PLAYER FOR GOING ON GOLF COURT SHOULD HAVE PASSED,, THE GREEN CARD" – THAT IS A MEMBER OF A GOLF CLUB.
Players who would like to have SPOUSES DURING GAMES (FRIENDS, CHILDREN, FAMILY ETC.), It is necessary that intent at the reception in order to get INSTRUCTIONS ON BEHAVIOR NE-GOLF FIELD.
PLAYERS ON THE GROUND MUST HAVE SET YOUR BARS AND BE reveals IN ACCORDANCE WITH GOLF DRESS CODE. NOT ALLOWED TO PLAY jeans, trainers, U T-shirts without collars, PANTS MUST HAVE A SHIRT BELT MUST be drawn into trousers. Crampon SOFT ON SHOES ARE ALLOWED UNTIL THE METAL IS PROHIBITED.
MAXIMUM NUMBER OF PLAYERS IN EVERY GROUP HAS FOUR.
PLAYERS IS ALLOWED TO PLAY ONLY BY ORDER enrolled in "SCORE CARD" -U, without skipping GAME ON GOLF FIELDS.
WHEN THE HOLE FINISH MUST GO NEXT hole DISPOSAL.
DYNAMICS FOR GAMES THAT IS IMPORTANT, fast GROUPS ALLOW PASSAGE.
PLAYER IS OBLIGED TO CORRECT FORK FOR REPAIR (divot TOOL) DENTS IMPACT ARISING FROM THE BALLS ON GREEN.
The player is obliged to stick snatched turf grass (LIFE) BACK TO PLACE WITH THAT WAS snatched.
PLAYER IS OBLIGED TO USE AFTER THE OBSTACLES sand (BUNKER-A) IZGRABULJA unevenness CAUSED AND IMPROVE YOUR PLAY IN ORDER TO PLAYER BEHIND HIM THE SAME CONDITIONS FOR THE GAME.
SEARCH FOR LOST TIME SHUTTLE'S MAXIMUM 5 MINUTES.
To avoid DAMAGE TO pocket, he should not STANDING TOO CLOSE HOLES, care should be taken when handling FLAG BALLS AND REMOVAL OF HOLES. DO NOT USE THE ROD BALLS FOR REMOVAL OF HOLES.
GOLF CAR MANAGEMENT IS RISK whoever administers it. REPAIR COSTS TO GOLF CAR, DAMAGE BY MEMBER OR GUEST TO BE COLLECTED. USER AGREES AND LIABLE FOR ALL OBLIGATIONS RELATING TO THE WORK OF GOLF ROUND.
REMOVAL OF BALL WITH DRIVING RANGE-A IS POSSIBLE ONLY THE PRESENCE OF GOLF INSTRUCTOR DURING THE IMPLEMENTATION OF GOLF ACADEMY TEAM BUILDING OR ACTIVITIES.
NOT ALLOW THE GATHERING BALL WITH DRIVING RANGE pitch. COLLECTING THE BALL IS CONDUCTED ONLY AUTHORIZED PERSON GOLF CENTRE.
NOT ALLOWED MORE THAN TWO PERSONS AND TWO BARS IN SETA GOLF CAR.
NOT ALLOWED BY CAR OR GOLF GOLF BUGGY cross over "GREEN" -A "TEE-OFF" AND ZONE BETWEEN BUNKERS.
NOT PERMITTED USE OF CELL PHONES DURING THE COMPETITION OFFICIAL, WHILE IN OTHER CIRCUMSTANCES USE THE PHONE IS NOT RECOMMENDED matter of PLAYERS agreement.
NOT ALLOWED TO WALK AT GOLF FIELD.
NOT ALLOWED pets during The Championships. VAN term of the official meetings and competitions, pets must be leashed ON THE TERRACE CLUB HOUSE OR RELATED TO GOLF SET TO FIELD.
Assembly Center Golf Club reserves the right to take measures, including denial of privileges or services, suspension and termination of membership in relation to the violation of these rules and regulations. Rules Golf Club can be changed only by the decision of the Assembly Center Golf Club.
Safety on the golf course
NOT ALLOW THE EXECUTION OF INITIAL IMPACT ON 6 AND 7-OM-OM starting points of DETERMINE IF THE PRESENCE OF PLAYERS ON 9-OM starting points or 6-OJ ROUTE. GOLF CENTRE ASSUMES NO RESPONSIBILITY if you happen accidents due to violation of this rule. CONTEMPT OF RULES FOR a sentence PLAYERS IN ACCORDANCE WITH THE RULES AND REGULATIONS taken by the Assembly GOLF CLUB CENTER.
GOLF CENTER NOT RECOMMENDED GAME OVER NEIGHBOURING RUPA AND THE CONSEQUENCES OF SUCH GAMES BE LIABLE.
PLAYERS IN FLIGHT-U MUST BE BEHIND THE LINES OF PLAYERS WHO ARE PREPARING very careful. The most prominent PERSON IN FLIGHT-U is a player who is preparing for HIT.
PLAYERS MUST NOT PLAY NEXT STRIKE UNTIL THE PLAYERS IN FLIGHT-IN FRONT OF BALLS within range. GAME CONTINUE WHEN IS ABSOLUTELY SAFE DISTANCE.
IF THE BALL GOES BY UNCONTROLLED OR PLAYERS AWAY, A PLAYER THE ASSESSMENT OF THAT THEY COULD BE ENDANGERED, BE VERY cried aloud "FOR" PUBLISHED POSSIBLE DANGER.
IF thunderstorm IN GOLF FIELD All players must immediately stop playing.
GOLF CENTER STAFF CAN WARN TOYS ON BAD WEATHER, BUT DOES NOT ASSUME ANY OBLIGATION TO PROVIDE POOR weather conditions. PLAYERS BE LIABLE CONTEMPT OF RULES AND RISKS ASSOCIATED WITH FORECAST bad times.
JUNIORS OLDER THAN 14 YEARS CAN OWN USE CONTENT GOLF FIELD IF YOU HAVE PERMISSION TO GAME TJ. "GREEN CARD".
Unregistered YOUTH MAY BE USED WITHIN THE GOLF practice site TERRAIN ONLY IF THEY ARE UNDER THE CONTROL OF PARENTS, OR A MEMBER OF THE CLUB GOLF INSTRUCTOR.
JUNIORS UP TO 12 YEARS can stay up in the clubhouse or golf course ONLY under parental supervision, MEMBER OF THE CLUB OR GOLF INSTRUCTOR.
CLUB CAN NOT BE LIABLE FOR lost, stolen and damaged property belonging to club members or guests.
Seniors
12 hours with an instructor + tests for obtaining the Green Card
Individual golf Academy
200 eur
Group golf academy for senior GUESTS
(4-8 persons)
100 eur